Dear Lord, It Is My Prayer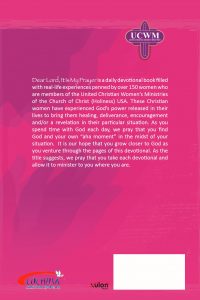 UCWM Devotional book
God's Grace Revealed Through Timeless Devotionals
WOW! Dear Lord, it is my prayer was written with you in mind! It took three years to complete with the help of over 150 women from across the country.
The goal of this book is to encourage women to recognize that there is no such thing as hopelessness. Women can experience God's grace in the difficult areas of their lives.
…….at the end of each devotional, space is provided to meditate on your personal experiences and take them to God.
~ United Christian Women's Ministries ~
Church of Christ (Holiness) U.S.A.
Purchase your copy or ebook for Nook or Kindle !